The Ultimate Guide to DAR Weddings in Washington DC
Welcome to my Ultimate Guide to DAR Weddings in Washington DC! Daughters of the American Revolution weddings are some of my favorite weddings to plan. This DC wedding venue is just simply spectacular. It is in a great location in Washington DC with ideal hotels nearby, and typically there is ample street parking. It is a historic property yet enough of a blank slate for a wide range of design aesthetics and color palettes.
For this ultimate guide to DAR weddings in Washington DC I'm going to offer tips and advice for every element of a DAR wedding in Washington DC. I'm going to show you real floor plans and link to a sample budget. I'm going to go through the wedding day in the way that your guests will experience the venue. So we will start with their entrance to DAR!
Tips for Entering DAR for Your Wedding Day
There are two main entrances to DAR for your wedding: C Street and 17th Street. C Street is popular because your guests will end up on the Terrace, where they will either be sitting for your wedding ceremony or joining your cocktail reception if your ceremony was offsite.
If arriving on 17th Street, your guests will come through the grand wooden doors, and arrive in the Pennsylvania Foyer. From here they might be headed into the Library for your cocktail hour (if your ceremony was offsite) or they will be headed to the Terrace. If the latter, they will have to pass through O'Byrne to get to the Terrace. At this point in the day, your O'Byrne set up will be nearly complete. If you wish to keep the set up a surprise, you'll need decor to keep it out of sight. In the photo below we used a hard wall flanked by drape.
Both of these entrances require your guests to walk up a long flight of stairs. There is access for wedding guests in a wheelchair. The ground floor entrance on C street, just past the Terrace stairs, will take you to an elevator. You can wind through the building to get to the O'Byrne Gallery. This path is necessary for those in wheelchairs, but it is a very long walk. But if you have folks who just have trouble walking, I think going up the stairs will ultimately be less work.
It is common now to offer your guests a drink when they arrive to your wedding venue. In the summer this can be something cold, even a popsicle. In early Spring or late Fall you can offer a warm beverage. It is important to remove anything your guests might be holding (a coat or a gift) before offering the drink.
Advice for DAR Wedding Ceremonies
The DAR Portico and Terrace are fantastic places to host a DAR wedding ceremony. A wedding ceremony on the DAR Terrace gives you that stunning backdrop. A DAR Portico wedding ceremony offers shelter from light rain while still allowing you to host your ceremony outdoors. I have squeezed 92 chairs onto the Portico for a ceremony.
I have had poor weather at the Daughters of the American Revolution forced wedding ceremonies into the O'Byrne Gallery. This is hardly a slouch of a Plan B. Those hardwood floors! Those classic white walls with architectural detailing. I couldn't ask for a better wedding ceremony Plan B location in Washington DC!
As a second indoor option, you can have your DAR wedding ceremony in the Pennsylvania Foyer.
Bonus tip for the Ultimate Guide: your DAR wedding ceremony chairs will be moved inside for the dinner reception. There is no place on-site to store a second set of chairs!
DAR Cocktail Hour Logistics
Engaged couples have at least two great cocktail hour options at DAR. My first choice is to host your wedding cocktail hour in the Library. This room will cause your wedding guests' jaws to drop. The DAR Library is such an impressive room. It permits only a short set up time, but other than the bar, you don't NEED to do that much for your wedding cocktail hour! I often don't put anything in there except a few high cocktail rounds. There is already plenty of seating and tables in the Library. You might want to display your escort cards there if you don't put them in the Pennsylvania Foyer.
Sometimes you can use the ending of cocktail hour in the DAR Library to offer a toast. This is a nice way to transition to O'Byrne Gallery for dinner.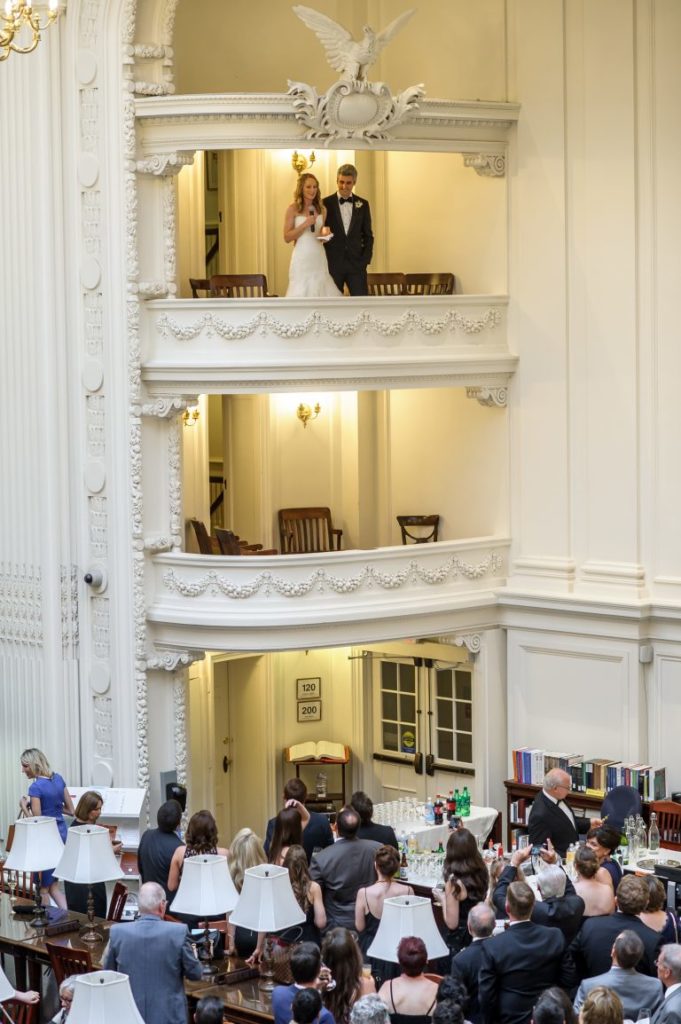 Another popular DAR wedding cocktail hour location is the other side of the Terrace – the non Washington Monument side. If you have great weather on your wedding day, this is a great spot for your wedding guests to mix and mingle. There is a third option: if you are dining in the Library, you could cocktail in the O'Byrne Gallery! If your ceremony is in O'Byrne, and you aren't renting the Library, you could use the Pennsylvania Foyer.
DAR Dinner Reception Tips
When planning your wedding dinner reception at DAR, your guest count is the determining factor of which space you can use and the table layout.
A wedding reception in the Library can accommodate 98 people for a seated dinner. There are three tables that seat 18 and three tables that seat 12. There is also one small table without lamps that can accommodate 8. You can see the small table in the photo below, near the top right corner. Since this table doesn't have lamps, you will need to hit it with a pinspot so that your guests aren't in the dark.
A wedding reception in the O'Byrne Gallery can accommodate 140, although I think 120 is a more suitable maximum capacity. Typically I see a mix of round tables with a long rectangular head table for the wedding party. If you have 108 or fewer guests, you could do two long rectangular tables.
I think you could accommodate a bit more if you tented the Terrace and had your wedding dinner outside! A clear top tent with string lights or glam chandeliers would be stunning on the DAR Terrace! I've also heard of folks seating guests for dinner in O'Byrne, on the Portico, and in Pennsylvania Foyer, but I don't care for separating guests like that.
Dancing at Your DAR Wedding
The most popular place at Daughters of the American Revolution to dance is on the Portico. I know that it looks small, but it really is enough space. Below you see a 9 piece wedding band set up! If the weather is uncooperative, you can dance in the O'Byrne Gallery (if you dined in the Library) or in the Pennsylvania Foyer (if you dined in O'Byrne.)
As you can see, this is a flexible wedding venue with a lot of options for your wedding plans. DAR in Washington DC offers a classic and timeless backdrop for any couple looking for a historic wedding venue.
DAR Wedding Costs
The Ultimate Guide to DAR weddings in Washington DC would never be complete without a discussion of the cost. I have written a long post about DAR wedding costs, but I'll give you Cliff's Notes. DAR is about $9000 to rent – more if you use the Library or need a longer rental timeframe. Your venue rental fee should be at most 15% of your overall wedding budget. $9000 is 15% of $60,000. The sample budget in the link comes to more, but I give you tips on where to trim or splurge. Enjoy the read!
If you want more info on what wedding decor items cost, I wrote about my favorite wedding decor elements.
Sample Wedding Floor Plans
Above: DAR wedding with 83 guests. Guests for this wedding entered from 17th Street. We had a wall installed to block the view of O'Byrne when they walked through. After the ceremony, guests retraced their steps back to the Pennsylvania Foyer to go to the Library for cocktails. During the cocktail hour, we moved the wall to be the bar back on the portico. We also flipped the welcome sign in the Pennsylvania Foyer to be the seating chart. When you use the Library, it will only be for that one part of the day, so you'll want to put a bar out on the Terrace for later.
Above: DAR wedding with 90 wedding guests. This wedding moved the ceremony to the Pennsylvania Foyer but everything else was done to the original plan. The cocktail hour was outside, dinner was in O'Byrne and dancing was on the Portico.
Above: 120 wedding guests. The weather cooperated and we were able to do everything as planned outdoors. Guests entered from C Street. We had the ceremony and cocktails on the Terrace, dinner in O'Byrne, and dancing on the Portico.
Above: DAR wedding with 124 wedding guests. We had the ceremony outside, though it's not marked here. We moved the cocktail hour to the Library due to chilly weather and we did the champagne tower there. After dinner in O'Byrne, we danced outside later on.
DAR Wedding Photo Op Ideas
DAR offers so many great spots for pictures, for both groups and just the couple. I highly recommend doing a first look before the ceremony so that you can really optimize all these great spots. Make sure your wedding day timeline also denotes the time of sunset, to take advantage of golden hour.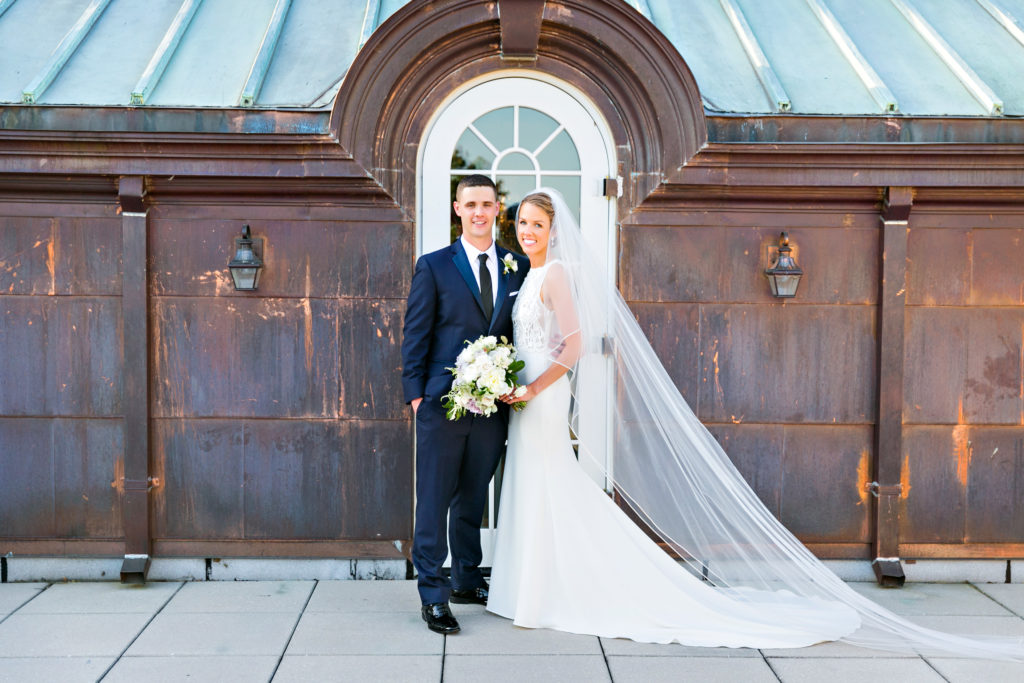 I love the balcony at DAR. It offers this really cool patina-ed backdrop and a great view of the Washington Monument.
With that stunning view of the Washington Monument from the Terrace of the Daughters of the American Revolution. You will want to make sure you get both day time and night time photos with the monument backdrop. Make sure to note this in your wedding day timeline so that it's not forgotten.
I hope you enjoyed my Ultimate Guide to DAR Weddings in Washington DC. If anything is unclear, if I missed something, or if you have questions, please contact me. I am always happy to offer advice!