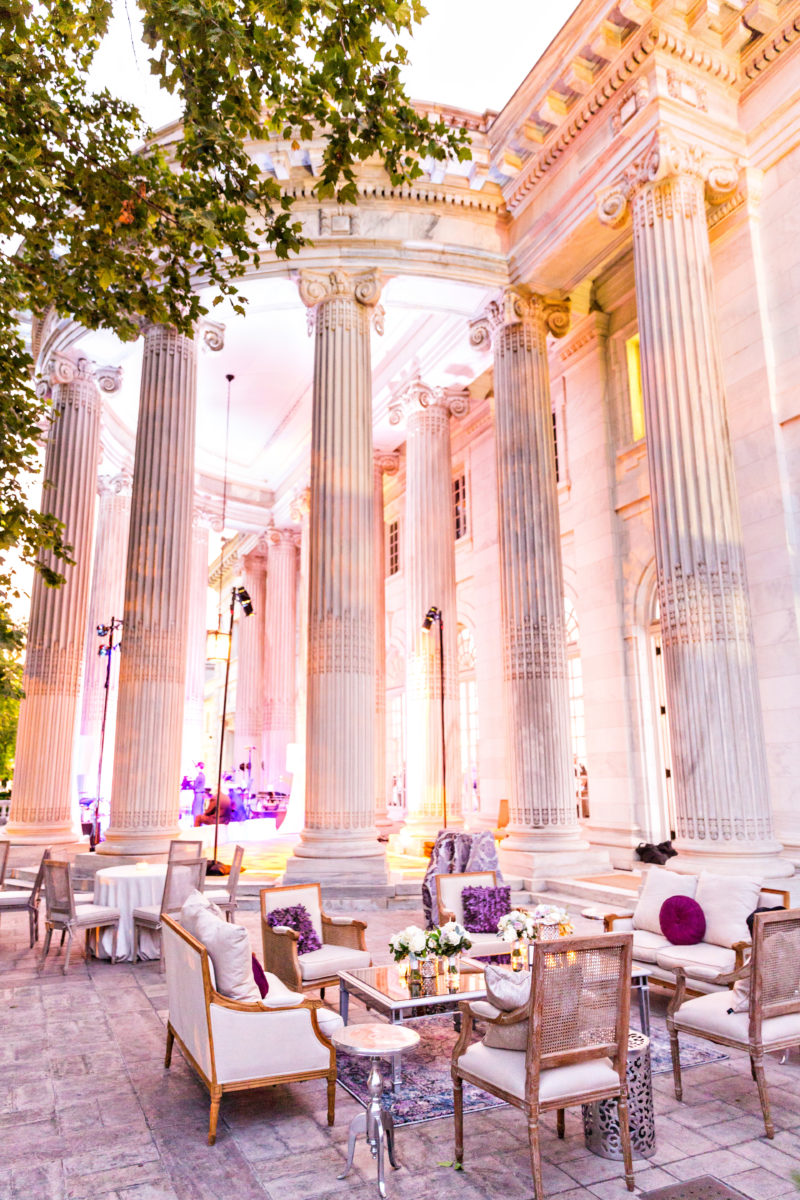 DAR Wedding Cost: How much should I budget? – Updated 2022
How much will your wedding at DAR cost? This is what you want to know, what you need to know, right? I've planned many weddings at DAR over the past decade, and I have a firm grip on the cost of weddings there. So today I'm gonna do a deep dive into the costs associated with a wedding at DAR. I present: a sample DAR wedding budget!
First, the wedding budget below does not include anything for your attire, accessories or any alterations. There is simply no way for me to predict what you will spend on those items.
Second, this wedding budget is based on 120 guests. DAR will tell you that 140 is their max head count for a seated reception. And that is true, in a technical sense. However, I've found that most of my clients end up with around 120 guests at their wedding. And I think this is a much more comfortable number for your wedding at DAR. Even with 120 guests, you will likely have to put 13 tables in the O'Byrne Gallery. That is only 1 table away from the max that will fit. Maxing out O'Byrne Gallery is tough if you have even somewhat extreme temperatures because your guests sitting directly in front of the french doors will become uncomfortable. If you want to read more about RSVP response rates, check out my previous post on real wedding statistics.
If you want to have dinner in the Library, your max headcount is around 106. You can see the photo below for a wedding reception dinner in the Library. If you need more details on DAR wedding layouts, I've got your back.
With your initial rental of DAR for your wedding, you get the Pennsylvania Foyer, the O'Byrne Gallery, and the Portico. Most of my clients also rent the Library, usually for the cocktail hour, but sometimes for the dinner (only if you have 106 guests or less!) The whole venue is fabulous, but your guests will love spending time in the Library.
DAR allows their wedding clients to bring in their own alcohol, and this can be cost savings, but you will have to make sure it is delivered and removed within the time-frame of your rental contract.
Wedding entertainment is a very personal choice, so I've noted a few options here. Most importantly is that you definitely plan for your wedding officiant to have a lapel or wireless mic at the ceremony, because there is a lot of ambient noise in the city!
Wedding stationery is another place where you can decide to splurge or save.
If you decide not to hire a professional wedding ceremony officiant, the person you ask to perform the ceremony does have to get a one-time permission from the city (and pay a $55 fee;) and they have to be confirmed before you apply for your license. So be sure to have that on your planning schedule. Or, you can opt to "Self marry" and sign your own marriage license! A cool new feature to come out of pandemic weddings.
Dessert is a personal choice, but almost everyone has something. Sometimes you can squeeze this into the catering budget.
DAR does have some nice hotels within walking distance, and buses are pricey: usually $200/hour, with a 4 hour minimum. My clients usually book a bus for 7 hours – that ends up being about $1400 per bus.
There are a lot of excellent wedding planners in DC, at various price points and offering different services. This is a very personal choice. Same with photography but I gave you a healthy budget here. You should be able to look at some of the best people in DC for these rates. Videography will run about $5000.
Lounge furniture and lighting are optional items but DAR really lends itself to these enhancements. You could trim the lighting budget by not doing any in the O'Byrne Gallery.
You can fill out this form and I will send you a sample DC wedding budget custom to your specifications!