Wedding Planning 101 | Washingtonian Bride & Groom Unveiled 2018
Hey! In case you missed it, I was on an expert panel giving advice on Wedding Planning 101 at the Washingtonian Bride & Groom Unveiled 2018 wedding show.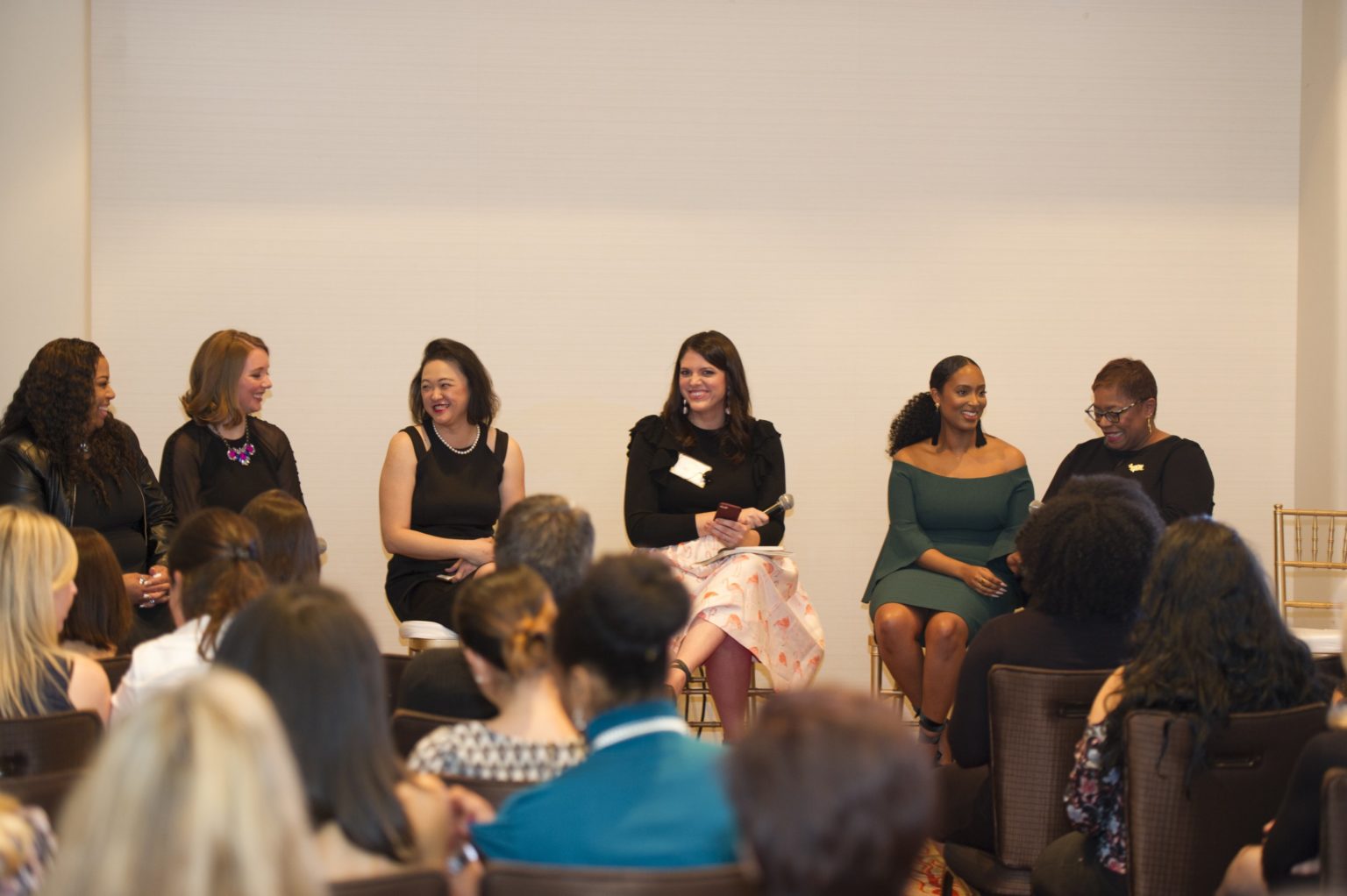 It was such a blast bring on the Wedding Planning 101 panel. I was with group of amazing ladies, with years and years of experience. I also was so honored by the turn out of the show guests. All 40+ seats were filled and at least 15 people were standing in the back of the room.
Today I'm going to take you behind the scenes a bit. Amy Moeller, the editor-in-chief of Bride & Groom, brainstormed the topics to discuss with the panel with us in advance. Which meant that I was able to prepare and practice my responses to the topics in question. Of course in the heat of the moment, I did not share all the advice that I had rehearsed, so I want to share it with you now!
Dos and Don'ts for Announcing Your Engagement:
First, I want to say that it is totally OK and normal to take a couple days (or longer!) before you make any announcements. Because once you announce, the onslaught of questions and unsolicited advice will begin. After you take your time, I recommend that you tell your parents first. From there, personally reach out to your family and close friends. It is important that you make sure you reach out to all of your VIP family and friends before putting your engagement on blast on social media. Always be careful with your social media wording – people will try to construe it into an invitation to your soiree!
How to Determine a Thorough and Realistic Budget:
Hiring your wedding planner as a first step in your wedding planning will help set you up for a successful wedding planning experience. Your planner will help flush out your budget, as well as educate you on what everything costs, and why. You can check back to my 2017 real wedding stats to see how much those clients were spending – because I know you want me to give you a number. As one of my co-panelists deftly said, The Knot says the average budget in $27K, and there is a town somewhere in America that is true, but it is not DC.
Which Wedding Vendors Should You Hire First, and Why:
This question has an obvious answer, your wedding planner, but I wanted to let you know that if you decide to brave the wilderness without a planner, at least for now, you should first work on the wedding vendors who cannot do more than one event per day. This is your venue, but also your photographer and your entertainment. And as a niche pro tip, you need to work on hair and make up early in the DC area, because the best ones book up very quickly.
How Do You Take Your Ideas, and Packed Pinterest Board, and Focus on the Things that Matter Most to You:
Your wedding planner should help you identify your wedding priorities, either with a conversation or a questionnaire. But if you want to work on this on your own, I can offer some advice. You and your partner should sit down and discuss (or write down) the things you liked and remembered at at past weddings you attended; and the things you disliked or don't remember from past weddings. This should help you idenfity the items where you should focus your wedding planning energy and your wedding budget. Tweak your Pinterest board accordingly!
How Do You Use Pinterest to Create Your Wedding Brand:
First, with Pinterest, you need to remember that you are planning only your wedding. While you may come across a gorgeous pink and purple boho bouquet; if your wedding is a chic black and white theme, you don't need to pin the boho flowers.
Second, is edit edit edit. Your cake designer doesn't need to see 30 photos of wedding cakes. Edit that section of your board to 2-3 photos, and be ready to articulate what you do and don't like in each photo. Your wedding cake designer will thank you.
Tips for Melding Your Wedding Design and Wedding Experience Into One Cohesive Plan:
Eventually you will have to decide which facet has an edge in your heart: the wedding design or the wedding experience. (Hint: my clients always pick the experience.) But I know that everyone wants their guests to have a cohesive experience with your wedding. The best way to achieve this is to plan, in advance (hint hint with a planner,) what your guests will experience with all the touchpoints of your wedding. This includes the first touchpoints: save the dates, wedding website, invitation, welcome note or welcome bag at hotel check in, bus ride to the wedding venue, what do they first see/do/feel when they arrive and so on and so forth. Before you rush into ordering a save the date, pause, and figure out how it will look cohesive with the rest of your wedding design. This can be with colors, fonts, motifs or monograms, etc.
Ways to Determine Whom to Invite to Your Wedding:
General rule of thumb: the couple gets 50% of the guest list, and each set of parents gets 25%. (Assuming you don't have divorced/remarried parents – adjust percentages as necessary for your situation.)
My favorite hypothetical to pose to my clients when they are waffling on who to add to the guest list is this: Would you otherwise go out to dinner with this person, or couple, and treat them to a very fance dinner, like $200 per person fancy dinner, if you were celebrating something like a promotion or birthday? If yes, then they likely belong on your guest list. If not, then they probably can slide to the B or C list.
A co-panelist shared another idea that I loved: Take a look at your phone. If you haven't texted with that person recently, or messaged them on Facebook, maybe they don't belong on your guest list.
How to Successfully "Over Invite" with the Expectation of Receiving Some Invitation Declines:
As I covered in my 2017 real wedding stats post, you can see that my couples experienced at least 20% decline rate – some had up to 30% decline rate. If you grew up as a local to the area, and your parents are still local to the area, you can expect this decline rate to be smaller. Ultimately you have to be mentally prepared to welcome all of your invitees to your wedding, the "worst cast" scenario, so mail those save the dates at your own risk!
How to Tactfully Answer the Awkward "Am I Invited" question:
No.
That is what a planner friend of mine said to me when I posed this hypothetical panel question to her. I LOL'ed.
I have two answers to this question. First, is to deflect as much as you can – you don't know yet, you are still flushing out the budget, the venue is quite small, my partner's extended family is really large, etc.
Second, if you can, have your mom, your maid of honor, or someone who is not you or your partner, break the bad news to this person. That is what your support system is there for!
Share Your Best One Piece of Advice:
One of my co-panelists gave a great piece of advice – always get event insurance. It is such a small investment for peace of mind. You may not end up using it at all, or using it for something major like extreme weather or a union strike or a government work stoppage. But if you have to use it, you will be so grateful that you have it. Couples don't have buyers remorse with regards to event insurance.
At the end of 2016, I asked my clients what piece of advice that I had given them during our time working together stuck out the most. I then summarized these pieces of advice into this great wedding planning advice video with The Dandelion Patch and Bowen Films. After the video was released, I broke down the 5 pieces of wedding planning advice into further blog posts. But my favorite one is this one: you don't have to do everything you see with regards to weddings. And this is what I mentioned at the Wedding Planning 101 panel. I even got a little laugh when I told the room they HAD to have a DJ, that an iPod is not acceptable. Yay for laugh lines!
There you have it – all the advice I shared, or wanted to, on the Wedding Planning 101 Expert Panel at the Washingtonian Bride & Groom Unveiled 2018 wedding show. I hope you enjoyed it! If you still have a question, email me!