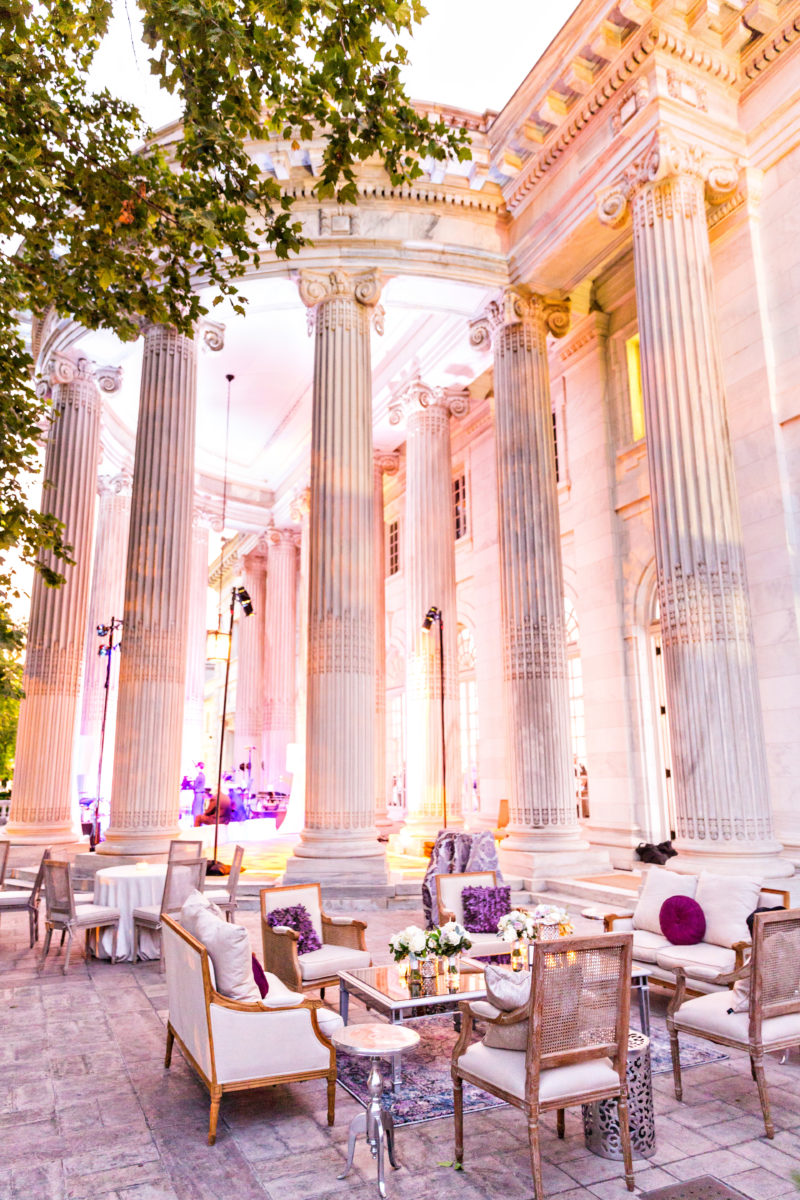 Washington DC Wedding Venues | 2017 Round Up
I got to plan weddings at 11 venues in 2017 for 10 couples. Five of these wedding venues were brand new to me (including the two private homes) so I learned a lot in 2017! I hope you'll check out my 2017 Wedding Stats post from last week, and follow along this month while I show off photos from all these 2017 weddings.
Anderson House in Washington DC is part of the Society of the Cincinnati. I worked on a wedding there in early March, so we were unable to use the gorgeous pool and garden space – which many couples opt to tent. Being limited to the indoor spaces limited this couple to about 120 guests.  Photo by Sincereli.
Riverside on the Potomac in Leesburg, Virginia, is a wedding venue that I've worked at multiple times, and I always love to go back.  This was a gray day in May, with rain occuring during the ceremony time, so we opted to swap the cocktail hour and the ceremony, hosting the guests in the lower barn while the rain passed, so that the ceremony could be outside afterwards. You'll see a bit more from that ceremony tomorrow. Photo by AE Landes.
Early May also brought our first Virginia private estate wedding (of two in 2017.) This barn was built by the father of the groom so that the wedding could be on site without having to use a tent. I'm not sure who was more excited that day – the newlywed couple, or the FOG who was showing off his barn all night long! Photo by Lisa Boggs.
Early June we worked a wedding at the Alexandrian Hotel (formerly the Hotel Monaco Alexandria,) where we had worked many times before. For the third time, I've overseen a courtyard dinner, twice with the clear top tent. I really love it. Photo by Jennifer Gulley.
Later in June, we were back at a favorite wedding venue, Daughters of the American Revolution. I can't wait to show you more from this wedding, it was a show stopper and one I am super proud of, after working on it for 20 months! Photo by Kurstin Roe.
In early July we had our second Virginia private home wedding. As you can see, we paired the carport with a tent to have a great amount of space for this wedding. And the best part was not having to pay for and install a tent floor! Photo by Heather Ryan.
In mid-July, our clients had their wedding ceremony at Holy Trinity Catholic Church and their wedding reception at the Hotel Monaco in Washington DC. I've worked at both before, and it was great to be back. I'll share some photos from that wedding later this month.
Over Labor Day weekend I was thrilled to be back at the Hay-Adams Hotel. Here you can see the guests on the rooftop during the cocktail reception. Photo by Steve and Jane.
In mid-October I was fortunate to work a wedding at the brand new Showroom in Washington DC. I'm in love with the space, and I hope to be back there very soon.
Our last wedding of the year was at the Whittemore House in December. I don't yet have photos from that one, but I can't wait to see them!
Later this week I'm sharing wedding cermeony photos from 2017 – be sure to stop back by!