A Decade of Weddings
I believe that the decade ends on the 0, and not the 9, but I seem to be in the minority with this opinion. But that is besides the point, I suppose, since I am still inspired to look back on my last "Decade" of weddings. I picked one from each year that left a big impression on me – of course, each of the 150 weddings I did in this time frame mean something special to me. But this is a blog and I have to be able to write some words 🙂
Speaking of weddings – are you hosting any wedding events in 2020? You should consider Paperless Post for your invitations. They have beautiful designs and they make (hunting down and) tracking RSVPs is super easy!
Carrie and Jon's wedding at Glen Echo Park was in 2009, which is one of my very favorite venues. It was my first print publications, in The Knot regional magazine. Stephanie Ascari Photography.
Monica and Dave's wedding was in 2010. It was my first time working at Saint Francis Hall. Monica introduced me to Style Me Pretty, but their wedding was published on Elizabeth Anne Designs! This was the first time I worked with an assistant and I never worked without one again. Kurstin Roe Photography.
Merritt and Sean's wedding was in 2011 at Merritt's parents' home in Upperville, VA. It was the largest and most intricate event I had worked at the time, and my first national print publication in Brides magazine. Sadly, they don't seem to have the wedding online anymore. #rude Katie Stoops Photography.
In 2012, Courtney and Cameron had their ceremony in Kensington and a big celebration at Courtney's parents' home in Fairfax. This was the first time I dealt with very severe weather challenges, which resulted in destruction of property. Luckily I had the most amazing team with me and everything came together after the storm passed. This was the inspiration for my ebook, which I published the next March. Michelle Lindsay Photography.
In 2013, Larry and I traveled with Mary Beth and Chris to Shrine Mont in Orkney Springs, Virginia for their wedding weekend. This was my second wedding with Mary Beth's family, and we had such a blast! This was one of the countless times I've "asked" wedding guests to sit outside in a light drizzle. #shrug Picture made by Holland Photo Arts (no longer working in weddings. #sad)
I had a hard time picking a wedding for 2014. So many great options. But I went with Ron and Jon at Decatur House. This was a year before the Obergefell decision, but in DC had legalized same-sex marriage. We planned an awesome weekend for their guests, starting at the Hay-Adams and ending with a brunch at their home. Connor Studios.
2015 took me to Edinburgh, Scotland, to help my friends Alex and Anth with their destination wedding at the Bonham Hotel. I learned so much about Scottish weddings, which was a treat! Orange Lemur Photography.
2016 was another year that was hard to pick just one. I was so excited to use these amazing vintage chairs for Priya and Ryan's wedding at the Barns at Hamilton Station. I also learned a lot about having a wedding with both a BBQ caterer and an Indian caterer in the same place. Kurstin Roe Photography.
This was one for the memoir. My extremely competent friends planned a whole wedding at a DC hotel – including the rehearsal dinner and the room block. Megan had worked in the DC wedding world, so she knew long ago who would be her floral designer, her photographer and her stationery designer. I didn't have to do much – I think I recommended a DJ. I did also attend 2 hard-hat tours of the hotel. Both times I left feeling like there was a lot left to do. *Cue the scary movie music*
Three months before the wedding, we were informed by the hotel that they would not be able to host us. So, in July of 2017, we moved Megan and Long's October wedding to The Showroom, and had everything else fixed in 6 weeks total. It was quite a push, but we did it and it turned out to be amazing. Honestly, I feel like this is where their wedding was to be all along. Vicki Grafton Photography.
A bucket list venue for over a decade, I finally got to work at George C. Peabody Library in Baltimore with Tiff and Vince in 2018. Tiff and Vince were referred to me from Megan and Long, and they let me run with many of my ideas. It really lived up to all my hopes and dreams and I hope to be back soon. Lisa Boggs Photography.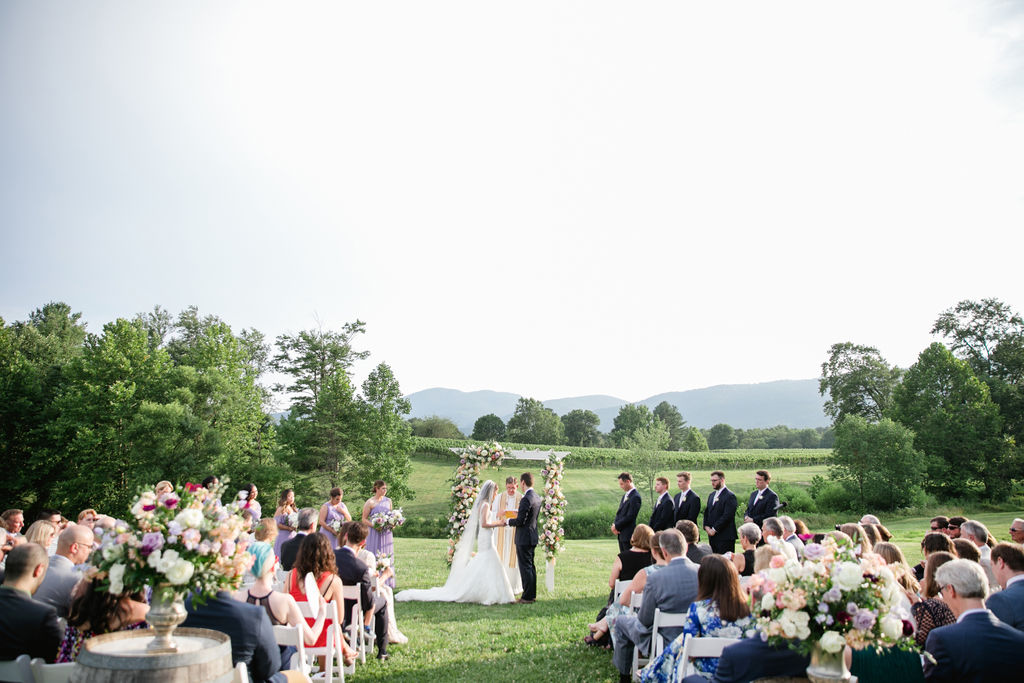 In 2019 I was able to work in Charlottesville for the first time, at Veritas with Caroline and Paul. Larry tagged along with this one, as he does with the "drive-able destination weddings" that I do. The craziest part about this area of Virginia is that thunderstorms would just appear on radar with no warning whatsoever. I was so worried about making the rain call – which the couple put squarely in my hands. You can see what I decided and how it turned out. Most of these photos are under wraps for potential press, but you can spy a few on my IG page. Jodi and Kurt Photography.
What will 2020 and the new decade bring? Hopefully lots of colorful, fun weddings and events for my clients. So far I have 8 weddings booked for 2020 – 2 at Dumbarton House, 2 at private homes, 1 at DAR, 1 at Saint Francis Hall and 2 at venues I've never worked at before! It's shaping up to be a really awesome year.