How to Plan a Virtual Bridal Shower
It's kind of crazy, but here we are. Adapting to the current circumstances. Trying to show joy and love to those who we care about in any way possible, no matter how small, or seemingly odd. But, as someone who spent 5 hours on a Zoom call with college friends, just hanging out, it is doable. Here are my tips for planning, attending and gifting for a virtual bridal shower.
Virtual Shower: Planning
If you have the time and budget, I would send an invitation in the mail. It will help the event feel less online.
There is a free version of Zoom, but it limits calls to 40 minutes if you have more than 3 attendees. You will need longer. Ask the other attendees to see who already has a paid version. If no one does, you'll have to sign up. Put a note in your calendar to cancel the subscription next month.
I would contact the bride's stationery designer and ask them to create a virtual background for all the shower guests to use while on the Zoom call. This will help make it feel like everyone is in the same place. You may have to help some folks figure out how to use the virtual background, so be ready for that.
If you don't get a branded virtual backdrop, you could pick a visual that has some special meaning to the honoree: maybe the location of their honeymoon, or where they met, or where the bachelorette party was supposed to be. 
Instead of a virtual backdrop, you can send everyone a cute custom banner to hang on the wall behind them. 
If time and budget permits, I would send all attendees some sort of matching item of attire or us. Maybe a lei or a party headband or a matching shirt, again, creating the visual that everyone is sharing in this experience together. I also like the idea of matching tumblers or wine glasses. 
Some decor, floral and balloon companies are still offering no-touch deliveries during this time. If you can, send some extra special decor to the honoree's home for the virtual shower.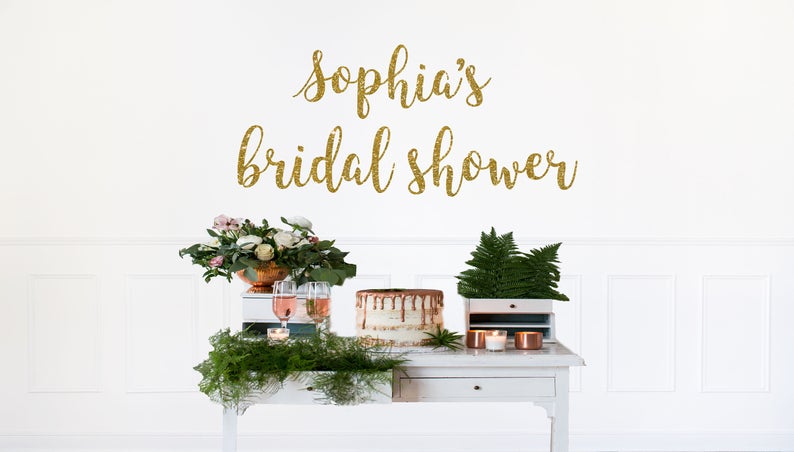 See this Virtual Shower idea: Custom Gold Glitter Banner
Shop this Virtual Bridal Shower idea: Bridal Shower Party Headbands
See this Virtual Shower idea: Custom Champagne Flute
Shop this Virtual Bridal Shower idea: Satin Sash
Virtual Shower: Planning the Menu
Food can be tricky. As the host, you could ship everyone some edible items. Goldbelly ships food nationwide, and this would be a nice treat for the attendees, as well as the honoree. Be sure to inquire about allergies and dietary restrictions if you decide to do this. If that isn't a practical idea for you, you can suggest a menu to the attendees. Maybe bagels or cinnamon rolls for a morning affair; perhaps chips and dip or a charcuterie board for an afternoon soiree. Make sure the attendees get this message with enough time to make arrangements, as not everyone can easily go to a grocery store right now.
For the honoree, definitely ship them some food. Reach out to the honoree's wedding caterer and cake baker and see if they could deliver something for the virtual shower. 
Virtual Bridal Shower: Attending
Unlike an in-person shower, where guests can mingle and have small conversations, at the virtual shower everyone will be having the same, big conversation at the same time. As the host, you should have some ice breaker topics or funny gags ready. Maybe have everyone share what they are drinking, or have everyone stand up to see who put on real pants and who didn't. You can also talk about how you all know or first met the honoree, or their betrothed.  If you have the fanciest version of Zoom, you can take polls, such as: what will you do first when the quarantine lifts: mani/pedi or hair cut/color.
You can also do a toast the the honoree, as well to the essential workers who are making life possible, as we know it.
Bingo will be a good game for a virtual shower. You can fill it with personal anecdotes and pandemic related jokes, if applicable. Be ready for the possibility that some attendees do not have access to a printer – you may need to mail them a card. Plan for a prize for the winner –  maybe pandemic essentials such as a big package of toilet paper or a case of wine? 
Shop this Virtual Bridal Shower idea: Custom Bridal Shower Bingo Cards
Shop this Virtual Bridal Shower idea: Package of Bridal Shower Games
Virtual Shower: Gift Giving
If you were hosting a bridal shower IRL, you would likely have a party favor for all your guests. There are many great ideas here, I am currently obsessed with the Brooklyn Candle Company. I also love these cookies.
If you want to send a beautiful box to all the virtual shower attendees with some of these party ideas and the favor, I recommend Marigold & Grey.
The timing of the gifts being given to the honoree is going to be important here. You have to make sure the attendees realize that the gift has to get to the honoree before the virtual shower, so that they can open the gifts on the call. Be aware that shipping takes a little longer these days, as the delivery lines are stressed right now.
Don't forget to assign someone to take notes on the gifts and gift givers. 
If I were attending a virtual shower, I'd give the honoree either cash, because they might have lost out on some deposits with their wedding vendors. Or, I'd pick something from the registry that I would find really useful while at home, like slippers, bed linens or wine glasses. If I were to venture off the registry, I would consider a  subscription to a newspaper, a wine club, a magazine, or streaming service. 
If you are the honoree, don't forget to thank your virtual shower hosts with a small gift. How about a gorgeous bath set, as an idea. If the hosts are your bridesmaids, you can use this opportunity to give them some wedding morning PJs.
I hope you enjoyed these tips and advice for planning a virtual shower. If you want to see some real showers, I co-hosted this colorful Pucker Up shower, and this Farm to Fork luncheon.
Want more gift ideas? I have you covered. Some of the above product links are affiliate-connected and purchasing through these links helps to support the blog.