Classy Baby Shower in Alexandria, VA | Greenery & Strawberry Shortcake
Showers are so fun to plan. I love a good theme party! If you haven't seen before, check out this killer Harry Potter baby shower and this Farmers Market bridal shower, both of which I planned last fall. Today I get to show off this classy, gender-neutral baby shower in Alexandria, Virginia from just last month.
The two hosts of this delightful baby shower aren't local to Alexandria, though the mom-to-be is. Which is why they engaged my help to bring the shower to life, and oversee the set up of all the fun details! We found the Lorien Hotel and their event space is just darling – a warm living room space, an intimate ballroom perfect for 40 brunch guests, and a quaint patio with tons of natural light.
Book Nook
We started the baby shower guests off on the patio with the Book Nook. Guests brought books to fill the baby's new library.
Brunch Reception
After all the guests arrived, we moved into the ballroom for the baby shower brunch. We set the rectangular tables with burlap table runners and greenery garlands with white rose posies. The round tables featured a trio of different sized floral arrangements as well as the burlap table runners.
Mom-osa Bar
Also in the ballroom was the mimosa bar, where the baby shower guests could completely customize their drink with a choice of juice, booze, and garnish!
Balloons + Dessert
The showstopper  in the ballroom was the white balloon arch adorned with ferns and baby's breath that we set over the cake and dessert table. The baby shower cake was a double tiered buttercream cake with hand painted flowers and gold leaf. We complimented the cake with mini lemon meringue pies, cake pops and onesie sugar cookies.
Strawberry Shortcake Favors
The mama-to-be loves strawberry shortcake, so we created a mini-picnic basket with strawberry shortcake elements. Fresh strawberries and shortcake cookies were given as the party favor to the baby shower guests with a red gingham napkin.
Big Reveal
One of the best parts of the baby shower is showing the mom-to-be all the special things that were planned for her. These long distance friends were all smiles, and the love in the room for mama and baby was palpable.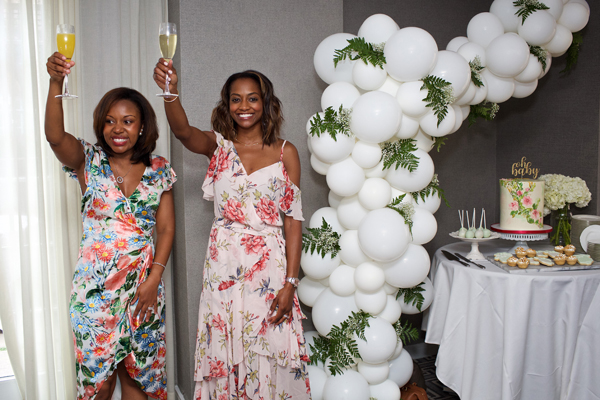 Click to see all sorts of fun parties and theme showers I've planned in the past!